Tips on Using Hose Barb Fittings
Hose or Tubing Size.  The use of different sizes of hose or tubing in your circuits deserves some care and consideration. In general, follow the manufacturer's guide for the size of hose or tubing you use. For air logic circuits, we recommend 1/16" ID for pilots and 1/8" ID for supplies and outputs.

Swivel Fittings.  Minimatic® swivel connector fittings are very efficient in applications where joints need to be disconnected and reconnected frequently. Made with a threaded connection on one end and a swivel connection on the other, these fittings provide a true cost savings on pneumatic circuit designs. They are valuable also where short lengths of hose are being connected. Note: These are not rotating joints. They are for assembly benefits . . . not as a constant rotation connection.

Tightening #10-32 Fittings.  TIGHTEN WITH CARE. Often a "finger tight" connection between Clippard fittings with anaerobic sealant is all that is required. When using a gasket, most Clippard #10-32 threaded fittings require no more than 9 inch-pounds of torque to seal. We recommend that this force not be exceeded. Use wrench #11770 with a 1/4" and 5/16" open-end.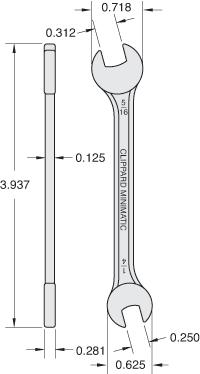 ---
Related Content