Barb Fittings vs. Push-Quick Fittings
Should you use barb fittings or push-quick fittings for your application? If you're having trouble deciding, you're not alone. Here are a few things to consider when trying to decide which type of fittings are most appropriate for your application.
Push-Quick
Easier to disconnect
Better suited for applications which require frequent connecting/ disconnecting of hoses
Usually provide higher flows than equivalent barb fittings
Work best with stiffer tubing
Measured based on tubing outer diameter (O.D.)
---
Hose Barb
Tend to create a better seal
More difficult to disconnect
Better suited for "low-leak" environments/applications
Usually lower cost than equivalent push-quick fittings
Work best with softer tubing
Measured based on tubing inside diameter (I.D.)
Tubing Size
The first thing you should consider is your tubing size. Barb fittings are measured by tube I.D. (inner diameter), while push-quick fittings are measured by tube O.D. (outer diameter). If you already have tubing that you are using, be sure to match the tubing to the appropriate fitting for a tight seal.
Frequency
Next, consider how frequently you will be connecting hoses to the fittings. If you plan to disconnect and reconnect hoses frequently, then push-quick fittings will make this easier. If you plan to set up your system and leave the hoses attached for several years or longer, barb fittings might be a better option.
Durometer of Tubing
Finally, consider the durometer of your tubing. Barb fittings create a better seal on a slightly softer hose, while push-quick fittings are easier to use with stiffer hose. For example, Clippard recommends using our 85A durometer polyurethane tubing for barb fittings, and 95A durometer polyurethane tubing for push-quick fittings.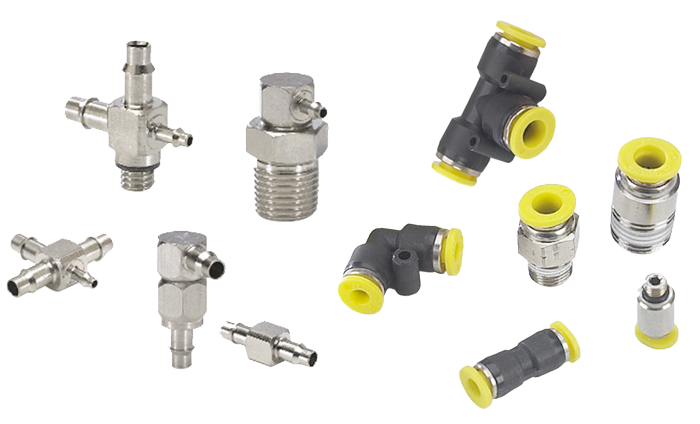 Refer to the charts below for a comparison of flow rates or to view Clippard's tubing recommendations. Still have questions? Click here to contact us for additional assistance.
Recommended Tubing Specifications
 
 
Polyurethane
Polyethylene
Polypropylene
Nylon

---

Durometer
Shore A85 or higher
Shore D44 or higher
Shore D44 or higher
Shore D44
---
Related Content