Pressure Driven Flow Control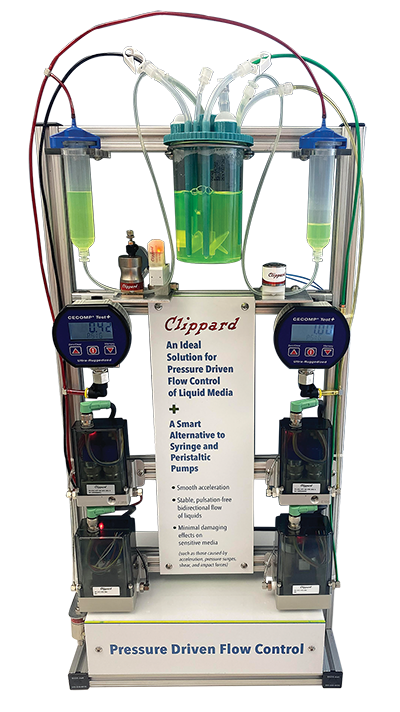 Clippard pressure and flow control components make for an ideal solution for precise control of critical gases in bioprocessing applications and are a smart alternative to syringe and peristaltic pumps. Smooth acceleration and stable, pulsation-free, bidirectional flow of liquids are achievable, minimizing the damaging effects of acceleration, pressure surges, shear, and impact forces on sensitive media.
A Clippard Cordis Electronic Pressure Controller is precisely maintaining the headspace pressure of a reservoir. The very fine resolution capability of a second Cordis is actively controlling differential pressure to smoothly accelerate the flow of the liquid media to a stable, pulsation-free rate into and out of the reservoir. The piloted pinch valves allow use of the same pressure controllers to control multiple flow paths, in both directions and at differing flow rates.
Watch a video of a similar demo:
---
Related Products

15 mm Electronic Valves


DR-2 Precision Regulator


Electronic Pinch Valves

Pneumatic Pinch Valves


---

Cordis Electronic Pressure Controls

Cordis Electronic Flow Controls