Medical Device Controls: From Push Buttons, Toggles, & Dials to Digital Touch Screens
Many medical device developers are exploring options for incorporating touch screen technologies into their devices. Digitally controlling electronics with software through touch screen commands enables the device to be easily upgraded to meet new standards of compliance, add additional functionality, and even present on-screen information in different languages, enabling the production of a single device that can function in different countries.
Problem:
How to replace manually actuated and adjusted pressure and flow control components previously operated by push buttons, toggles, and dials with electronic components?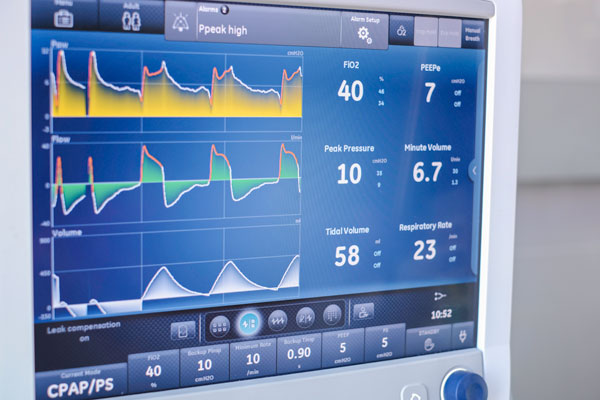 .............................................................................
Solution:
With the pressure and flow control components and experience needed for both manually controlled and electronic components, Clippard is able to provide device manufacturers with the best solutions and advice as they transition from manual to electronic controls.
Take the case of a ventilator manufacturer wanting to develop a next-generation device with glass touch screen controls. Control valves operated by push buttons and toggles were replaced with Clippard EV Series and DV Series valves based on needed flow. Manually operated needle valves controlling gas flow rates were replaced with Clippard SCPV and DVP valves depending on the flow and fail-safe requirements of each component. And the manually-operated regulators controlling system operating pressures were replaced with Clippard Cordis electronic pressure control units.
Related Products

EV Series Precision Electronic Valves


DV Series Precision Electronic Valves

SCPV Series Stepper-Controlled Needle Valve

DVP Series Proportional Valves


---

Cordis Series Electronic Pressure Controls