Pneumatic Solutions for Oxygen Concentration


Normal atmospheric air consists of only 21% pure Oxygen with the balance being Nitrogen and other gases. For medical patients requiring Oxygen therapy, traditional compressed air or liquid air may not always be available or convenient. For those in need of a more portable solution, Oxygen Concentration devices are available in much smaller, more lightweight designs. A variety of models are offered for stationary applications as well as home and portable use.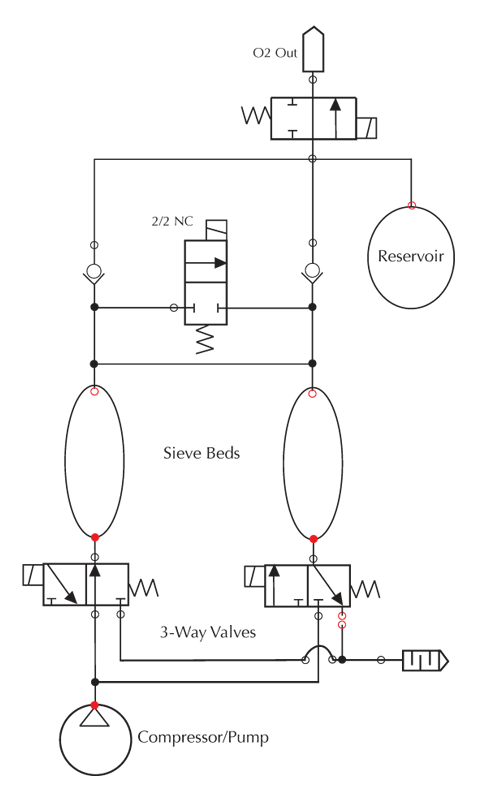 oxygen concentration equipment
Oxygen Concentrators draw the ambient air through an intake valve, pass the air through filters to remove contaminants which separates the Oxygen from the Nitrogen, Argon and other contents. By extracting the Oxygen, the concentrator delivers a flow that will typically have a purity of up to 95% Oxygen to the patient. Both continuous and pulse flow operation is available.
This technology is especially utilized for personal medical care and travel, airline and military operations, ambulatory equipment, disasters, and more.
innovative solutions
Clippard has been successfully partnering with progressive companies in the design and development of innovate pneumatic solutions for both portable and stationary Oxygen therapy equipment.

Clippard's miniature valves, actuators, fittings and regulators are ideal for these types of applications, especially with the addition of new "DV" Series, as well as the Oxygen Clean and Analytical series electronic valves.
Download Whitepaper (PDF)
Locate a Distributor
Request Literature
---

Relevant Product Lines:

10 & 15 mm Valves


E Series Electronic Valves


EM Stud Mount Electronic Valves


DV Series Bidirectional High Flow Electronic Valves


 

---


Hose & Tubing



Check Valves



Minimatic Fittings