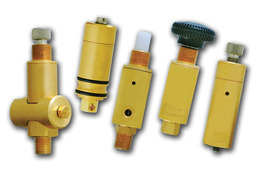 Cartridge, #10-32 and NPT mount versions available
Simple, robust and cost-effective
Exceptional long life
FKM seals and electroless nickel plating also available

Regulators are offered in either relieving or non-relieving versions. The relieving design maintains a constant pressure output even when downstream conditions change, while non-relieving regulators do not automatically compensate for changes in downstream flow or pressure. There is no vent to atmosphere, as in a relieving type regulator, and the output pressure can increase due to a downstream event. Non-relieving versions can accommodate compatible liquid applications.
Special Configurations & Assemblies

These robust, durable regulators can be customized or combined with other components to meet your exact requirements. Contact us today to discuss your specific needs.
| | |
| --- | --- |
| 2D Files | 2D Files |
| Adjustment | Knurled Knob (Std.) |
| Force | 25 lb. Nominal |
| Included Item(s) | Nuts |
| Operating Temperature Range | 32 to 230°F (0 to 110°C) |
| Ports (Inlet / Outlet) | Std. - #10-32 / #10-32 |
| Relieving Option | Relieving (Standard) |
| Technical Data Sheet | Data Sheet |
| Travel Arc | 7/32" |
| Weight | 0.1800 |