High Flow in a Miniature Package: Clippard's DV Series
Clippard's entry into the miniature electronic valve market began in 1973, when Leonard Clippard, founder, introduced the EV line of valves that utilized only one moving part, the "spider." Today, the EV valve is still serving a very horizontal market with thousands of installed applications in a multitude of industries. Since the initial introduction, several new series have been added to the line, including; Corrosion-Resistant, Oxygen Clean, Analytical, ECN, EVN, ETN, Proportional Control, Intrinsically Safe, EM and ES series, all which utilize the "spider" design. Enter the new DV Valve.
---
New Design Challenges
According to Dave McBreen, the DV valve project design engineer at Clippard, the all-new design began with the coil. "It's not that we designed the valve around the coil," said Dave, "but we knew our design parameters called for the coil to be less than 2.0 W, so we began there. The 2.0 W would allow us to see what kind of magnetic pull we could generate." McBreen goes on to say that many coils were made in the attempt to optimize one. This led to an optimized solenoid needed for the valve. The process for determining the correct coil was enhanced by a coil calculator. The calculator, which was designed by Clippard's engineering department, greatly reduced the design time and provided the exact specifications of the coil.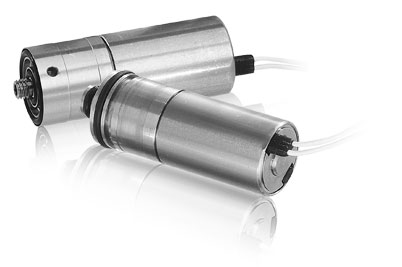 Once he had the design criteria, McBreen felt that his biggest challenge was to consider the manufacturing processes needed to get the product out the door—how to get a cost effective, optimized design through manufacturing and yet be fairly simple to assemble was the challenge. Included in this thought process was the concern with size limitations; the valve needed to be small. Yet, he had other criteria to consider, including power, flow, pressure, and materials.
The requirement from the very beginning called for all metal parts to be stainless steel with the nozzle and bobbin utilizing certain plastics that would allow for FDA approval. The all-stainless housing provides many environmental advantages and is manufactured in three Mary Gannon, Design World Senior Editor parts. McBreen is very enthused about the three-part design and just what a "robust package" it delivers. "It can be taken apart and put back together in seconds," said McBreen. One of the main reasons for this is that the valve only has one moving part—the "spider."
The all-new spider, designed from stainless steel, is capable of flows to 100 lpm at 100 psig. Although this is a new spider design, compared to the existing EV line, it is still a poppet valve. With a preload of approximately 0.017 in., stroke up to 0.018 in., and response time of 10-15 msec, the DV Series can be utilized in many applications. And, with the over-molded seal, the DV Series will continue the high standard set by the industry-leading EV line for leak-free operation, which is particularly meaningful for analytical applications.
McBreen also noted that, "in addition to being very economical to produce, the straight-forward, robust design leads to a hassle-free assembly. The new valve has another feature not readily found in other miniature valves: bidirectional flow. It is designed to serve as a dual flow valve within a certain pressure range. Applications requiring this feature should be discussed with Clippard's technical staff prior to installation."
Manufacturing begins
After two years of building prototypes and testing (using FEA stress analysis on the spider and magnetic analysis software for the valve) it is now ready for market, according to McBreen. Initially the product will be offered with an orifice of 0.052 or 0.070 in., with manifold or cartridge style mounts, and voltages in 12 and 24 VDC. Air and other compatible gases are the recommended media with the standard seal but other seals are available for use with other medias. Simply changing the coil, nozzle orifice or mounting options helps to enable special customer applications.
The DV line will be assembled in Clippard's Fairfield, Ohio plant along with the EV line and other Minimatic electronic valves where, according to Steve Schutte, Plant Manager, "all work cells and personnel are prepared for a very positive response to this new product. The ability to produce thousands of valves per week is due in no small part to the straightforward design, which means a straightforward assembly. In addition, an automatic tester is in place which ensures 100% of the valves will go through the testing process." He also noted the testing equipment was designed and built by Clippard.
Application potential
Now that the design and manufacturing processes have been finalized, where will the valve be used? According to Rob Clippard, Vice President Sales & Marketing at Clippard, "one of the key applications will be in the medical field. Although there are numerous applications within the medical industry, none will be more applicable for this valve than blood pressure cuffs. Additionally, applications requiring some sort of pressure monitoring, pulse monitoring of the heart or perhaps oxygen therapy have a great amount of potential. With its high flow capability, respirator applications will definitely be one of the most common uses. Other applications in the medical field would include ventilator and kidney dialysis machines."
While medical will be a primary market, according to Rob, there are many other applications and markets, including gas chromatography, liquid chromatography-mass spectrometry, and other applications requiring analysis. He noted the valves would be used throughout the packaging industry, especially where small banks of manifold mounted valves would be needed.
Future development
So, what's ahead for the DV valve? According to John Campbell, President, "this is one of the new generational valves and we believe it will contribute to the success of the company for a long time. From this basic design we expect to be successful from the start; we'll be growing into many other products as we continue to invest in engineering and continue to believe in new product development as the key to our future."


Original Article, May 2014
By Mary Gannon