Clippard Miniature Whisker Valve
Clippard's MWV-1 is a 2-way, Normally-Closed miniature whisker valve for use with bleed pressure piloted control circuits. The valve's coil spring, stainless steel whisker is easily replaceable and can be formed to different shapes.




Medium: Air
Switching Speed: 125 Hz, Normally-Open
Operating Pressure: 150 psig/10 bar max.
Air Flow: 28 l/min @ 50 psig; 42 l/mim @ 100 psig
Force for Full Stem Travel: 1/4 oz. approx.
Mounting: 5/16-24 male thread; nut and lock washers furnished.
Bleed: To atmosphere around whisker stem
Whisker: Stainless steel, approx. 3" (76.2) length
 




---


View the Video Demonstration:








 

| | |
| --- | --- |
| Part No. | Description |
| MWV-1 | Normally-Closed Whisker Valve, #10-32 |
| MWV-M5 | Normally-Closed Whisker Valve, M5 |
| MWV-1P | Normally-Closed Whisker Valve, 1/8" NPT |
| 12375-BLK | MWV-1 Whisker Replacement, Bulk |
| 12375-PKG | MWV-1 Whisker Replacement, Pack of 10 |
---
Bleed Pilot Control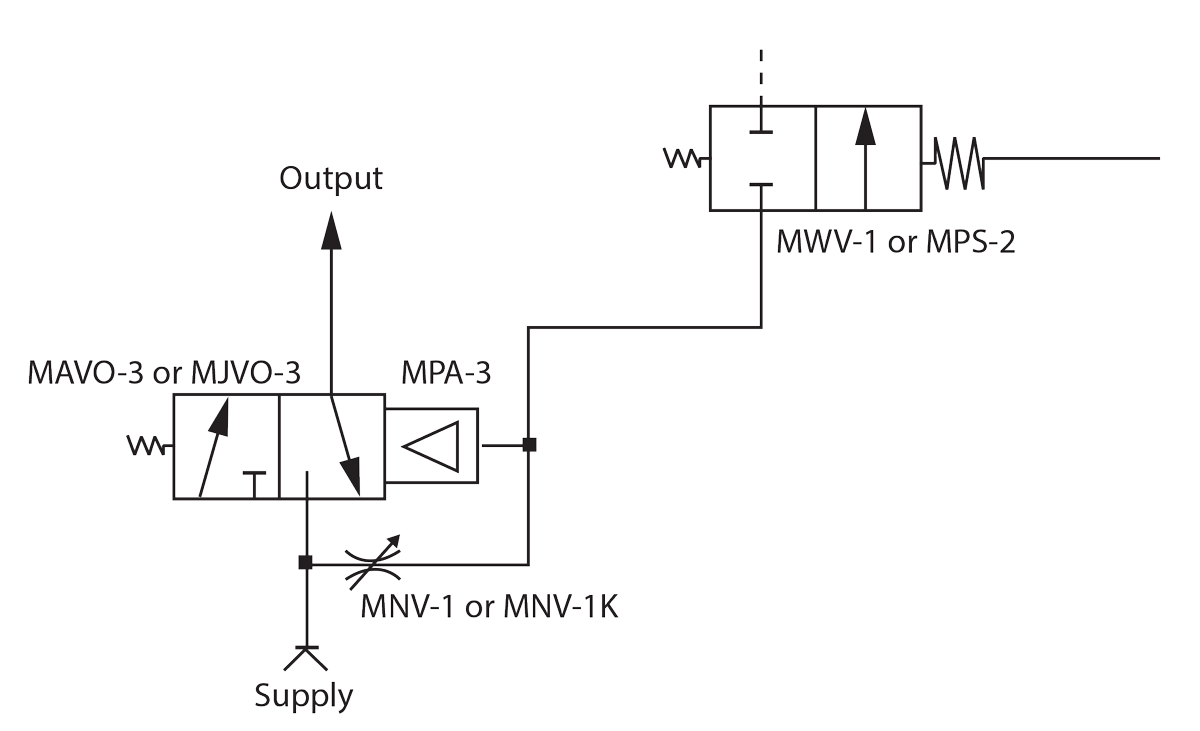 In this circuit, the normally-open
MAVO-3
is held in the closed position because the normally-closed
MWV-1
creates a back pressure in the
MPA-3
pilot operator. If the "whisker" of the
MWV-1
is contacted it exhausts the line from the
MNV-1
and the pilot actuator which allows the spring to open the
MAVO-3
. When the whisker is "reset" the output of the
MAVO-3
will be turned off.
The
MNV-1
is adjusted to a flow value that is less than the flow of the
MWV-1
. If the flow through the
MNV-1
is too low, the MAVO-1 will have a continuous output. Conversely, if the
MNV-1
is passing too much air, the
MWV-1
will reach a "saturated" condition and the
MAVO-3
will remain in the off position.
Note: When this circuit is initially connected to an air supply, a momentary output from the MAVO-3 will occur. Evaluate how this will affect your control.