Engineering Solutions for MRI Compatibility
Medical equipment used in or near a Magnetic Resonance Imaging (MRI) environment is required to meet ASTM standards for MRI compatibility and safety testing. Clippard components are available that are non-magnetic and may be specified in MRI compatible medical equipment such as ventilators, hospital beds, medical gas pressure and flow control devices, and even MRI compatible pneumatic robots used in image guided biopsy, ablation, and other surgical procedures.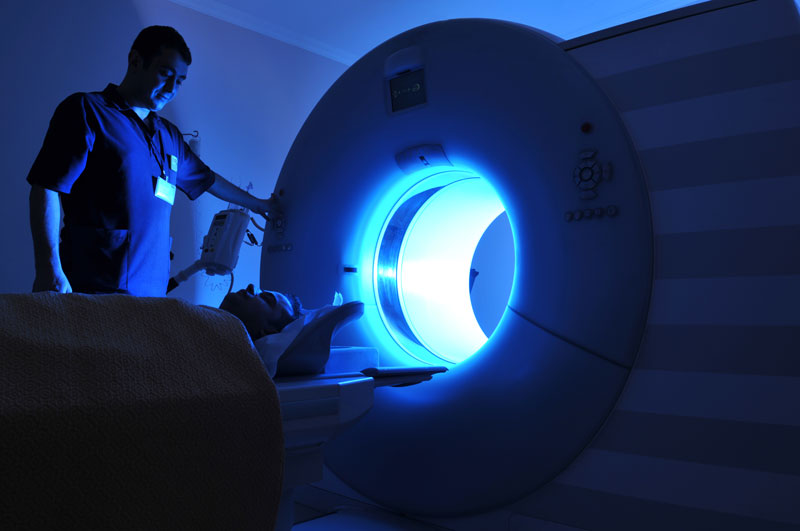 Problem:
A manufacturer of ventilators wanted to develop a fully pneumatic model that was not only capable of being operated without electric power, but built with no magnetic materials enabling operation right next to an MRI machine (i.e., MRI compatible).
Why the requirement of non-magnetic materials? MRI machines utilize extremely powerful magnets, up to 60,000 times the strength of the Earth's magnetic field, or a thousand times the strength of a typical refrigerator magnet, which can cause magnetic objects to become lethal projectiles when in an MRI environment.
Check out this video to see just how dangerous magnetic items are near an MRI machine!
.............................................................................
Solution:
To meet these requirements, medical device OEMs need to source components manufactured using MRI compatible materials, specifically non-magnetic materials. Common non-magnetic metals that meet this criteria are called non-ferrous, or non-ferromagnetic and include titanium, aluminum, brass, copper, bronze, aluminum bronze alloy and austenitic stainless steels. Common metals that are magnetic, or ferrous, and therefore not MRI compatible include steel, iron, cobalt, nickel, and ferritic and martensitic stainless steels.
Working together with the OEM engineers, Clippard was able to provide both standard and specially designed versions of it's MPA piloted MAV and MAVO valves, MTV and TV toggle valves, MNV needle valves, and IND indicators that met not only the needed performance requirements, but were made with non-magnetic materials needed for the final ventilator device to meet the MRI compatible ASTM standards.
Related Products

MPA Air Pilot Actuators


MAV & MAVO Stem Valves

MTV Series Toggle Valves

TV Series Toggle Valves


---

MNV Series Needle Valves


Pressure Indicators


Stainless Steel Cylinders



Brass Cylinders