Design World Reviews Clippard's EVP Proportional Control Electronic Valves
Clippard's EVP Series Proportional Control Valves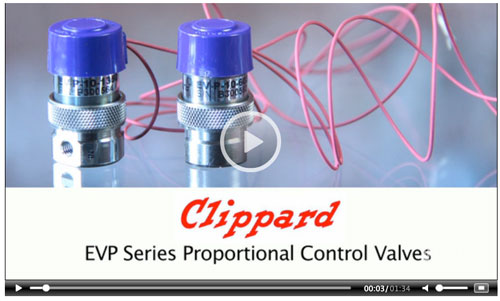 Today, I'm looking at Clippard's EVP Series proportional control valves. I have both an EVP-10-1350 and an EVP-10-6025 with me. The 1350 has a 0.013-in. diameter orifice and a maximum pressure of 50 psig, while the 6025 has a 0.060-in. diameter orifice and a maximum pressure of 25 psig.
These pneumatic valves feature fast response, a small package size, long life and a variety of orifice sizes. Plus, they're under $55. Oh, as far as orifice size, in addition to these two we have here, Clippard also offers 0.009-in., 0.025-in. and 0.040-in. sizes. There are also three connection styles and two mounting types available. Temperature range is from 32 to 150° F.

These valves vary the output flow based on the current input provided to the solenoid. They have a consistent gain, which ensures a high degree of control for most applications.

In our next video, we'll look at the EVPD proportional valve driver, which can be used with these valves.

For more information on the EVP series valves, please visit www.clippard.com/evp.