Proportional Valves
The EVP series Proportional Control Valves combine the features of the existing EV series valve - long life, low power, and Clippard's reputation for high quality components - with the additional capability for proportional control.

The EVP series valve provides air or gas flow control, and varies the output flow based on the current input to the solenoid. The consistent gain of this valve provides a high degree of control for many applications.

Controllability and overall value are the main features of the EVP Proportional Valve series. The valve may be controlled using DC current, open or closed-loop control, and even PWM (Pulse Width Modulation) to cover a broad range of applications.

Optional Valve Driver below.

Read More about the EVP Series
View Tips for Selecting the Right EVP Valve
View Products

• Flow proportional to input current
• Fast response
• Long life
• Single moving part
• Low friction and wear
• Three connection styles
• Two mounting types

---
Plug-and-Play Control for Proportional Valves

The EVPD Proportional Valve Driver fast-tracks valve-control applications. This product is ideal for laboratories and OEM product development, and can be customized to fit OEM applications including control parameters. The EVPD produces driver current for Clippard's EVP series valves proportional to input control signals.

• Linearized valve response right "out of the box"
• Three selectable valve output ranges
• Five signal inputs to choose from
• Easy integration with existing machine controls
• User-adjustable parameters
• Automatic Temperature Compensation to maintain constant current
• Two configuration options: stand-alone PCB or enclosed in housing
• Compact size

View Products
Download Technical Data Sheet (PDF)
Download Installation & Ops. Manual (PDF)
---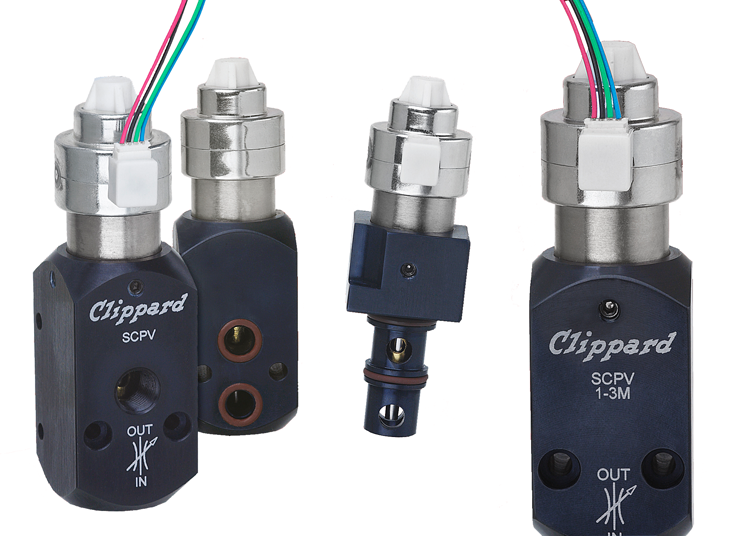 Utilizing the industry's most robust and powerful linear actuator, the high-flow stepper-controlled proportional valves outperform the competition in performance and durability.
This valve is ideal in critical applications such as gas delivery, medical, analytical, and industrial automation requiring high resolution, high flow, and low hysteresis. In addition, the unique design allows for custom flow profiles when required.
• 2% hysteresis
• Excellent linearity—2.5% of full-scale
• 2 ms reaction time
• Millions of cycles
• Holds position for power savings or at loss of power
• In-line, manifold and cartridge styles available
Control Data
A Bipolar Chopper Drive (not included) is a power-efficient method of using current to drive a stepping motor to obtain high stepping rates. The chopper gets its name from the technique of rapidly turning the output voltage on and off (chopping) to control motor current.
Stepper motors require some external electrical components in order to operate. These components typically include a power supply, logic sequencer switching components and a clock pulse source to determine the step rate. Many commercially available drives have integrated these components into a complete package.
---
Stepper Motor Driver for Stepper-Controlled Proportional Valves

The SCPVD-1 Valve Driver is a stepper motor driver designed to operate Clippard SCPV Series Stepper-Controlled Proportional Valves in 1/16, 1/8, 1/4, 1/2, and full step modes.

• +7 to +35 VDC supply voltage
• Maximum 2A/phase
• 1/16, 1/8, 1/4, 1/2, and full step modes
• 5V or 3.3V logic inputs (jumper selectable)
• LED power supply indicator light
• Crossover current protection
• Thermal shutdown circuitry