Automated Spool Valve Assembly Machine Increases Efficiency, Boosts Capacity
Clippard has years of experience manufacturing valve components with automated CNC machines that have the capacity to run lights out 24/7. This gives Clippard repeatable performance, consistent quality, lower cost, and higher capacity. Over the past year, Clippard has developed several new automated machines to bring these same benefits to the assembly side of the company's operations.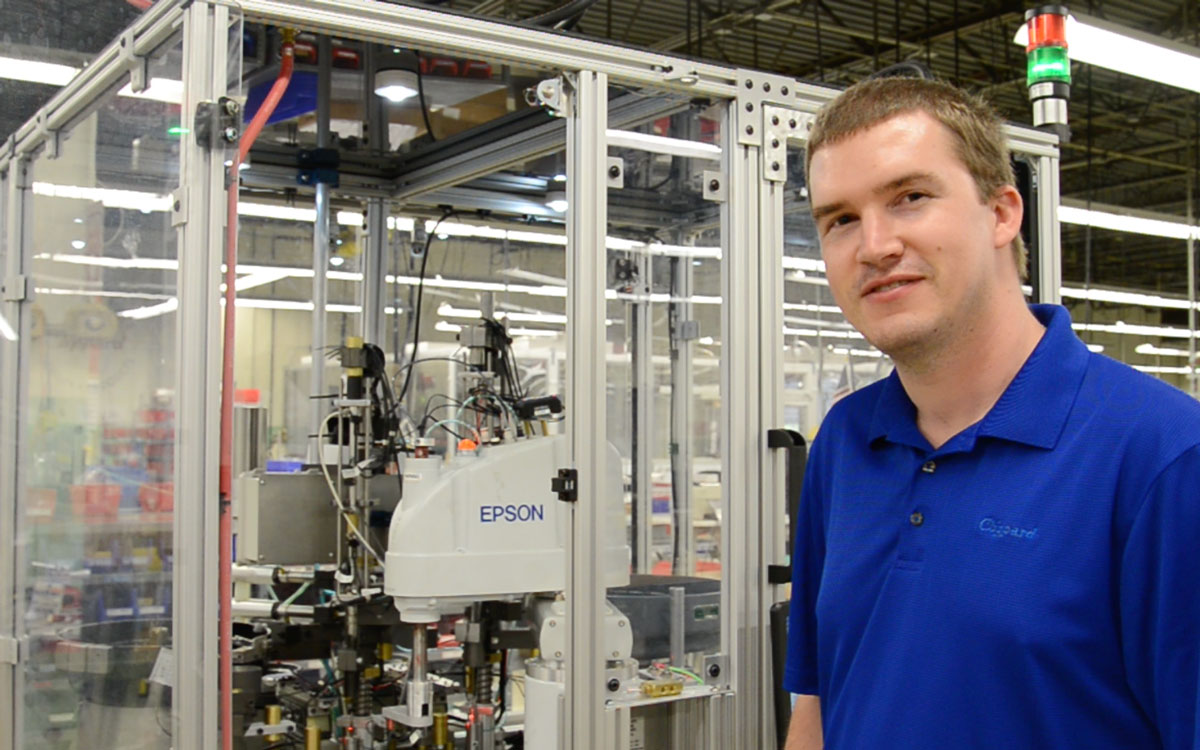 One of these such machines is this Automated Spool Valve Sub-Assembly Machine. As assembly staff heads home to be with their families, this machine continues building spool valve sub-assemblies for Clippard's popular MAV, MJTV and FV Series spool valves. These components will be assembled overnight, ready for the final product assembly in the morning.
Clippard's Automated Spool Valve Sub-Assembly Machine utilizes a variety of Clippard automation components, including stainless steel cylinders with GMR switches, flow controls, customized pinch valves, Maximatic® FRLs and valve banks, along with Clippard fittings and tubing, in combination with an Epson robot and a Horner PLC.
Clippard cylinders are integral in the automation of a variety of tasks, including dispensing the valve spools and transferring the o-rings into position. Brian Kettering, Electro-Mechanical Automation & Robotics Technician for Clippard Instrument Laboratory, explains, "Clippard cylinders with GMR switches transfer the o-rings from a feeder track onto a mandrel, and feed the spools from a bowl into a nest to be picked. When a part is sensed, the cylinder retracts back into position and waits for the robot to finish its cycle."
"These machines improve efficiency and consistency in our assembly department," says Kettering. "They boost our capacity and improve the quality of our products without increasing cost."
---

Related Products:

Stainless Steel Cylinders


GMR Switches


Flow Controls


FRLs



---

10 mm Valves


15 mm Valves


Fittings


Hose & Tubing