Pinch & PTFE Isolation Valves - A Fluid Power World Interview with Rob Clippard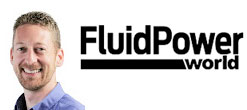 Fluid Power World's Editorial Director, Paul Heney, catches up with Rob Clippard, VP Sales and Marketing, on Clippard's newest products and the company's outlook for 2016.
 
Recently, I spoke with Rob Clippard, VP Sales and Marketing for Clippard Instrument Laboratory, Inc. about the company's newest products—as well as his outlook for the next year.
Rob explained that the company's new pinch valve is an exciting product for them, as this type of component is used in many machines where other Clippard products already reside.
"We're on the pneumatic side of the machine, where we're usually controlling a lot of the components with the pneumatics," he said. "This really opens the door to where now we can address the entire system. It's exciting for us to see this line get added to markets that we were already established in—it's a really nice addition for us."
Clippard's isolation valves, Rob said, should be fully in production in mid-March. He said that there are no seals in the valves … "It's PTFE on PTFE. From an engineering prospective, having that geometry and that design came down to where it's a leak-proof, water-tight product.
When engineers express their current needs, it has not simply been about price or delivery, Rob said—service is another key attribute.
"We're known for good craftsmanship, design, the engineering side of things. The design of [these valves] certainly is unique in terms of, we can outperform our competition … but the thing that's getting the attention is people love dealing with Clippard. We're an easy company to work with as far as the service, the delivery, the pricing even. It's certainly not a commodity by any means, but the price, the delivery service, we tend to do better than anybody in our industry."
He said that they are expecting the second half of 2016 to be much stronger than the first half, especially on the industrial side of the business. For the life sciences, things started off stronger than they predicted, and the company expects industrial to catch up soon.
"It's exciting for us because now we do expect that the second quarter will be far better," he said. "I believe the year will probably see a 5 to 6% increase [in growth]. We could hopefully be closer to 10%, with the way things are going right now."
Rob said that the company is working with three new large OEMs in the mobile market, which gives him a good feeling for 2016.
"Between life sciences and industrial, we think the first half will be strong on the life science, second half will be strong in industry," he said. "Overall, it's a great place to be. We're well-spread between the two."
---
Related Products:

Medical Grade
Silicone Tubing


NPV Series Pinch Valves


NIV Series Isolation Valves