Pneumatic Solutions for Pushing Cheese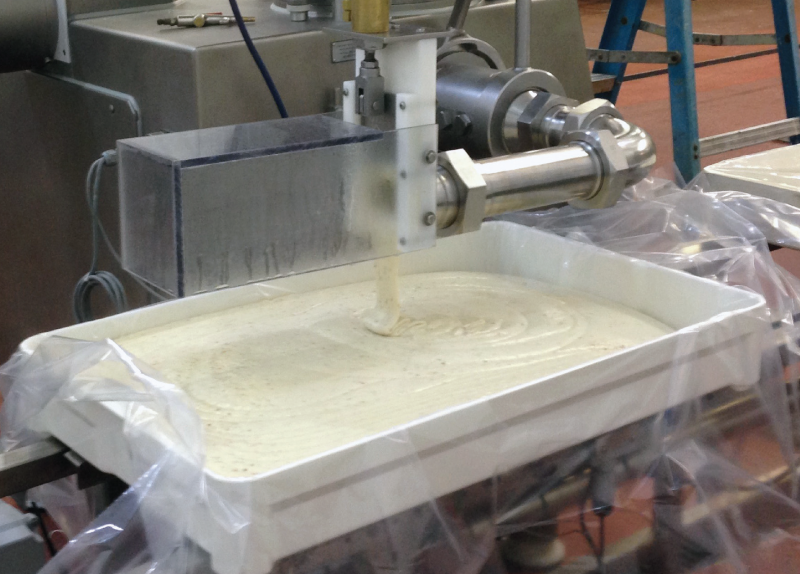 Filling cheese trays, weighing up to 100 pounds, and moving them along the conveyor line was the challenge Charter Engineering received from a food manufacturer. This small northwest company designs and builds food processing machinery. For this particular challenge, Charter Engineering worked with Clippard Instrument Laboratory, Inc. as their pneumatic component supplier. The application consists of pouring a heated cheese product into fiberglass trays, cooling them and then cutting for packaging.
index & fill
Known as "Index and Fill", this machine continuously measures the weight of cheese emptying into trays and utilizes a pneumatic forward-push system.The system is fully automatic and uses several Clippard products, including; two UDR-32 stainless steel cylinders with magnetic pistons, a RPS-S3 magnetic reed switch and a JFC flow control valve to control the indexing motion.
long life & reliability
According to Jay Rosen, professional engineer and owner of the Charter Engineering Group,
"Clippard components have been used by our company on many products over the years. The stainless steel cylinders are long-life, offer washdown capability and are reliable. Their costs are competitive but more importantly, the sales application staff has always been helpful and supportive on product questions for new and custom applications. This system compared to competitive quotations suggesting electrical designs was far more cost effective for the customer. Also, other designs using conveyor belts were evaluated but considered too difficult to clean."
check weighing system
The check weighing system is a three stage process. After the first tray has reached one-half of the desired fill, stainless steel air cylinders push it forward to the next stage. Here the filling process is completed, and the trays are again pushed forward by the cylinders to the unload position.
The customer's original operation called for three-to-four people to manually push the trays through the weighing operation and then to the unloading station. Today's procedure pushes several hundred trays through the process in one day with one person. According to Mr. Rosen, similar applications exits that fill other types of containers including, bags, boxes, and crates, where high fill rates are needed. Generally, the weights of the container is greater than 25 lb. with a cycle time of 15 seconds.
Download Whitepaper (PDF)
Locate a Distributor
Request Literature
---

Related Products: